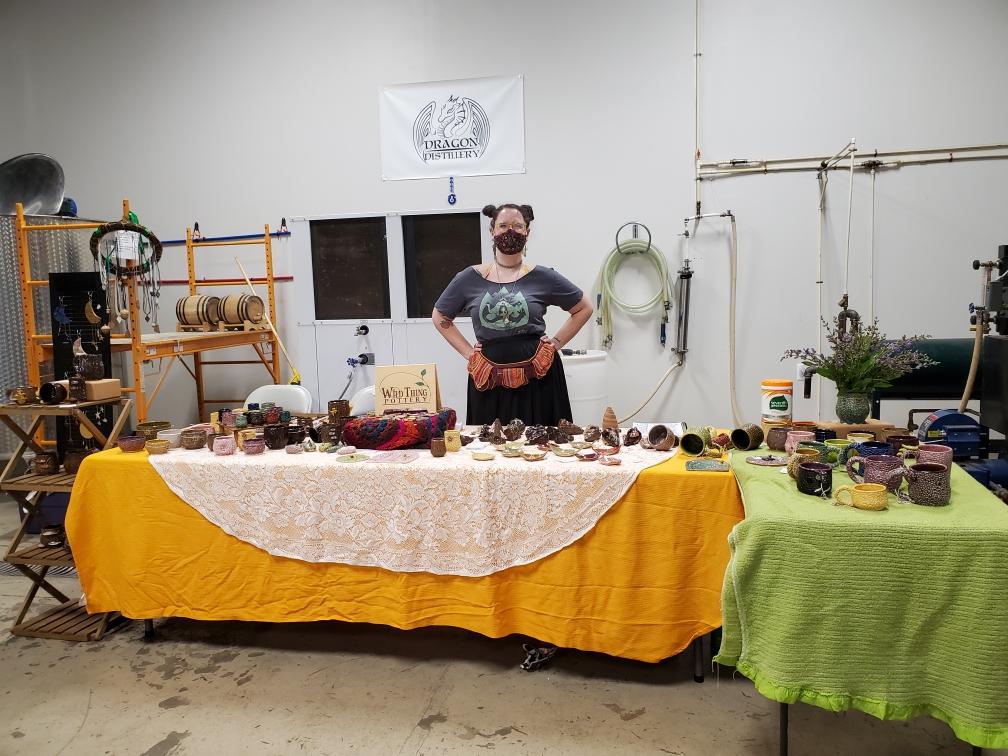 Hello and Welcome! I'm Katie; the hands behind Wild Thing Pottery. My pronouns are She/Her. Thank you so much for stopping by!
I've been throwing on the wheel since 2006, when one of my high school art teachers revealed the school had a potter's wheel hidden away, and the rest, as they say, is history.
I attended Hood College in Frederick MD, eventually earning a BA in Art and Archaeology, specifically studio arts with a concentration in the ceramic arts. My senior show was a floral representation of the Fibonacci sequence. I tend to get a little carried away with things, for sure, but I like to think it works to my advantage. extra, but in a fun way.
In college, we were tasked with creating a business. Combining my love for ceramics with my favorite yoga pose, Wild Thing Pottery was born! I mostly worked out of shared art spaces or made due with overworked clay at my kitchen table up until five years ago, when I got the wonderful opportunity to build a studio in my basement! I've been steadily building inventory, acquiring kilns, and displaying my work at art shows ever since.
Alongside running my studio, I'm currently teaching art at a local Montessori school! In the past, I taught handbuilding to senior citizens for the better part of a decade, worked with an amazing process art company where I got to drive around Western Maryland teaching kids about art, I taught art camps and have even helped run some Raku workshops. Its been such fun!
When I'm not throwing, glazing, teaching, or otherwise creating in clay, you can catch me at the Maryland Ensemble Theatre making props, or committing some kind of Goblin mischief with "Oh Crit, the D&D improv show! (We"ve been making RPG based comedy for FIVE years?! What even is time?!)" I might also be hanging out with the lovely witches of Moonhaven School of Magic, reading tea leaves, mixing up some kitchen magic, tending the garden, or watching a screwball comedy.